We're Bros Tour 2009 Michishirube Report - Osaka-jo Hall

by gingerine, first posted on Mashaplus Forums on August 23, 2009

---
(In response to questions from other forum members about an accident with pants….)
Yes, minna-san!!
I was there and witnessed the whole incident. It happened at catwalk in front of my section. He was halfway singing Sou and throwing water. At third throw, he was bending down to take more cups from the staff, and i saw the staff talking to him.
He seemed to stop for a fraction of second and suddenly……………………………….he zipped up his fly!!!!!!
His face was straight and he threw the cup and kept singing!!!!
It caught us by surprise, the Japanese fans started talking and we verified what we saw. Yep…it was masha zipping his pants!!!
At that time the stage was raised about the height of the VIP box, so the fans there must have super clear views….
Sou was after Heaven. It was definitely the moment of the concert. He was throwing water at other sections during Heaven, that's why our section got water and the 'incident' during Sou.
He was showing his usual moves during Heaven at one section at the catwalk right in front of this little girl (gulp!!), i wonder if he noticed. And at another section, there was this fan at arena reaching for the cup, and Masha simply drop the cup gently for him to catch……so nice of him!!
Masha was so high tonight and the fans kept shouting 'masha…..masha' everytime there was no music and no MC. Maybe that's why both he and fans didn't notice anything wrong with the pants, plus half of the time that part was well concealed by the guitar.
---
Now, where do i start with the report…….i kinda lost memory after the zip incident
His voice was wonderful, especially when he sang the ballads…..Milk Tea, Saiai and Nagareboshi were better than CD version. The last song Konya Kimi Wo Daite is excellent, his guitar and voice just melt me. It's meant to be sung live, not on CD.
Of all the fast songs, i love RedxBlue and 99. Like Izumi-san mentioned, Masha's guitar skill is surprisingly good. My hubby loves the guitar and the drum part of Tsuiko Ame no Naka. I think his favorite is the drummer.
During Kiss Shite, we were a bit late saying 'Kisssss…..shite' it was so funny and the screen showed the 3, 2, 1 to prompt us for the next chorus, and we finally got it right. Masha also noticed this and mentioned it during the MC.
Tonight, he showed the photos taken in Osaka:
-the ones where he went to buy cheesecake and the shop-assistant girl just stared (thinking is it Fukuyama…..?) at him while masha was taking a peek into the paperbag.
-the ones where he went to record stores and copied other artist style.
-the one where he watched the baseball game (he's almost in-recognisable).
-the ones in Umeda and Namba!!!!! (taken earlier today, very near where my hotel is).
Before the encore, he was introducing all the musician and the backing-vocals, and this part became quite long because each of them was showing special moves, like bowing to the audience in ballerina style, and the percussionist Mataro had the audience clapping very long. One of the backing vocal was also from Osaka (? not very sure as my Japanese was limited) and Masha was joking around with her.
Before he sang the last song, Masha was asking questions and our replies were very very loud……he had to pretend to cover his ear. We didn't want him to end….
Konya, kimi wo daite……
---
It was a great night with Masha.
He was wearing this tight silver pants. He looks taller in person, maybe because he's also slimmer now. Even the Michishirube v-neck T-shirt looked a bit loose on him, and i still can believe he wears M size (it doesn't come in L size).
Oh, forgot to mention that he had an 'f' tattoo on his left upper arm and he rolled-up the sleeve to show-off. Anyone know if he has it on all concert nights?
Osaka-Jo Hall, 2 hours before the concert starts and it was drizzling.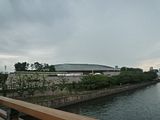 View of the stage from my seat.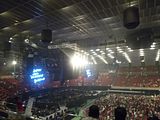 Michishirube truck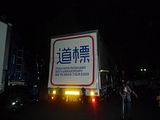 And, i had to walk pass this giant everyday to get to hotel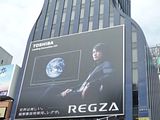 ---
This concert report was cross-posted from MashaPlus Forums, Masaharu Fukuyama International Community, with permission from the author. (Registration required to enter.)